The ELC held their sports day today and had great fun doing a running race, an egg and spoon race and a sack race as well as tackling an obstacle course. They competed in teams to complete the beanbag race then the grand finale was a very exciting parent/child race. 
Each child was presented with a medal and a certificate from our P7 pupils who made a fantastic effort at planning and running this event. 
Refreshments were then served and parents had the chance to stay and play!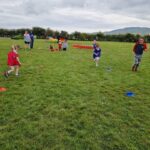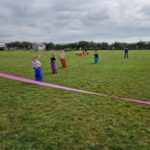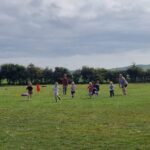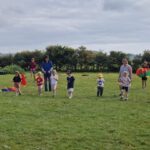 The children of P4-7 had a very creative afternoon working with two ladies from the Clyde Fishermen's Trust. They drew, painted and printed artwork connected with fish and other sea creatures found in the local area.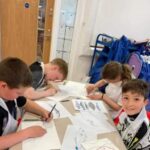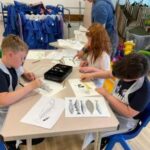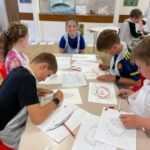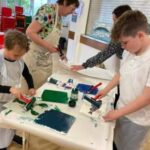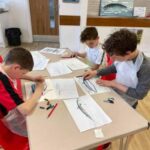 What fabulous teamwork there was today, with all pupils from the youngest to the oldest working together to find the hidden eggs. There were 10 eggs to find, each with a different pattern. The patterns had to be recorded on the sheets to complete the hunt with every team member taking a turn to draw. It was lovely to see the older pupils taking leadership and making sure the younger ones were involved in all parts of the activity. 
Well done everyone! 🐣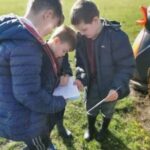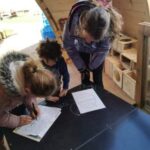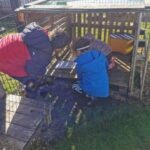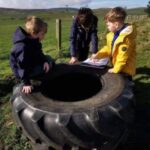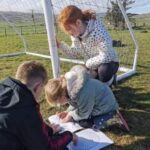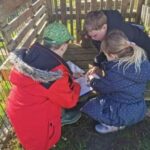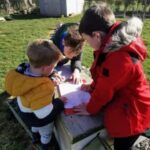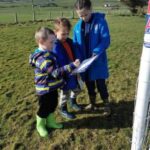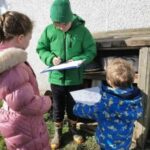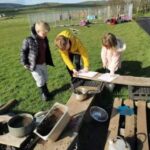 Football After-School Club
Plenty of action today at our Football After-School Club. 
Thanks to George Pope and Jamie Graham for coaching the team and to Campbeltown and District Junior Football Association (CDJFA) for lending the footballs for the sessions.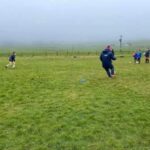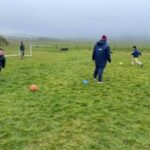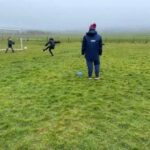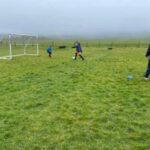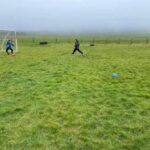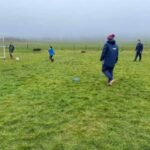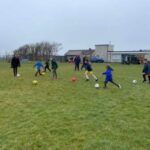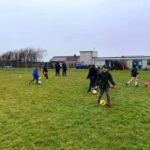 The children were delighted to take part in Street Drumming sessions with Mark McSporran today. Everyone said it was so fun! Thanks to Mark for providing this experience.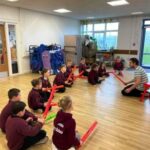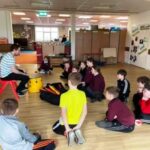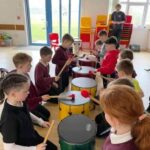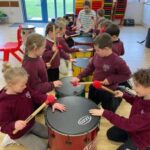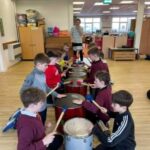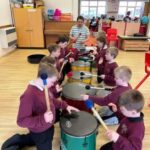 World Book Day- Author Visit
As part of our World Book Day celebrations this week, we had a visit from Edinburgh-based author Mike Nicholson. He has written 12 children's books including the Museum Mystery Squad series. The children were very engaged in his presentation and were eager to hear how he comes up with the ideas for stories. 
Thank you very much to Mike for coming to visit and for giving the children such an h retesting afternoon.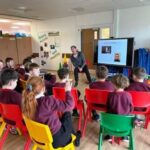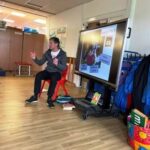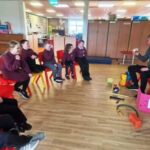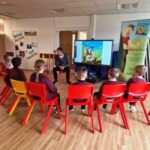 Space And Rocketry Workshop
The children visited the MACC base on Wednesday to take part in a Space and Rocketry workshop. 
They learned about space travel and took part in a range of STEM activities including making Stop Motion animation movies, building a Space Rover and using K'nex. 
Thank you to Tim Bailey and MACC Business Park for hosting this event. The children had a wonderful day!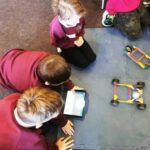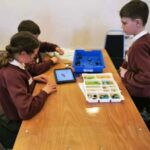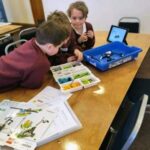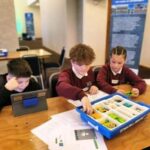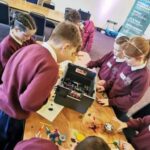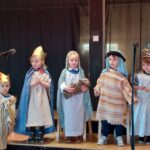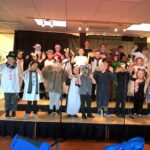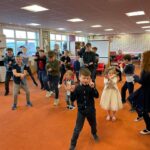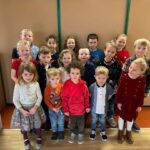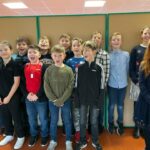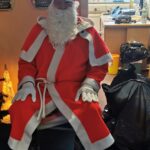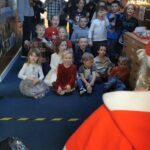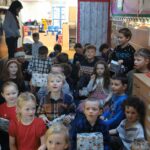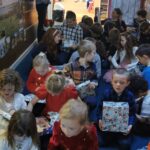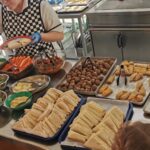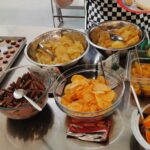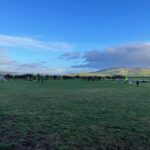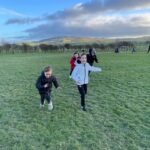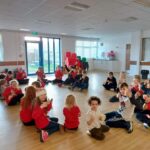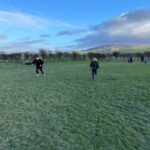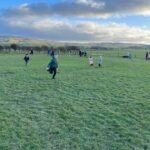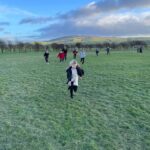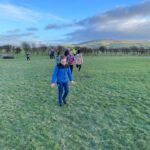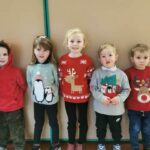 The children have had a wonderful run up to Christmas starting with the first of our Christmas Concerts in three years.  A visit from Santa, a Christmas Party and lunch and a Santa Dash which raised £422.50 for school funds. 
MACC Airbase Tree Planting
The pupils of P4-7 were invited to the MACC base today to join other local schools in planting trees as part of the Queen's Jubilee Trust. They learned about the site and its use as well as having an interesting presentation about Scotland's temperate rainforests. A total of 500 trees were planted, helping to encourage biodiversity in the area. We were given a commemorative plaque which can now be seen at the site. We look forward to seeing the trees grow and becoming part of a new woodland habitat.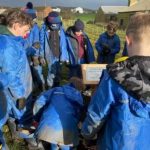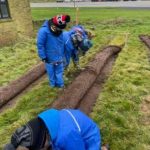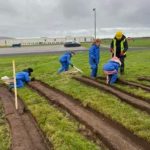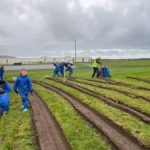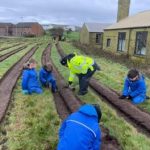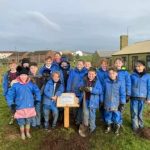 The Grand Old Man of Golf Life Skills Programme
Primary 4-7 had a visit from William of the Old Tom Morris Legacy today. Tom Morris was a key figure in the development of golf in Scotland and was responsible for the design of many golf courses including Machrihanish. He was the oldest person to ever win the Open Championship in Scotland. 
The children completed golf activities in order to find clues which helped them solve a series of problems. Through these activities, they learned about the life of Tom Morris as well as the importance of life skills such as resilience, perseverance and compassion. 
Thanks go to William for providing this experience for the children.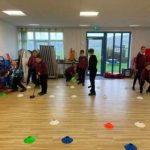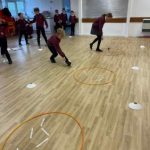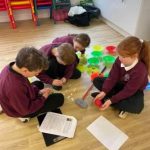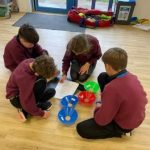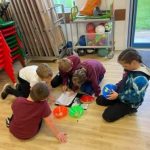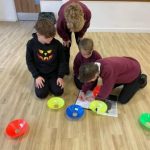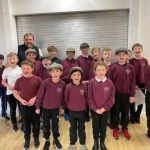 The school was invaded by all kinds of interesting characters yesterday from princesses to witches, vampires, superheroes and pumpkins. 
The costumes were all fantastic, well done to everyone!
The children played lots of party games including Jumping over the Witch's Broomstick and Pass the Witch's Hat.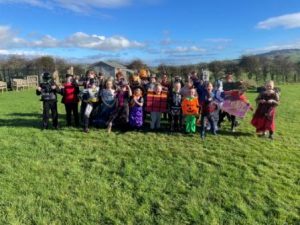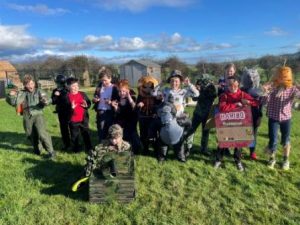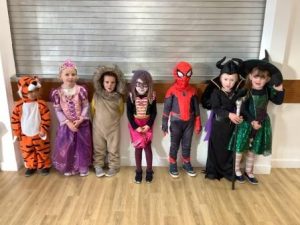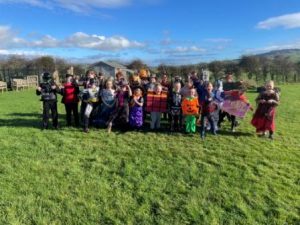 Machrihanish Golf Club Visit
What a fantastic time the children of P5-7 had at Machrihanish Golf Club this afternoon. Many thanks go to Jennie Dunn, the Machrihanish Pro, for her instruction and advice. The children worked hard to perfect their swing and were delighted to put the skills taught by Mrs Lindsay Ramsay of Active Schools into practice on a real golf course. Thanks also go to the staff of the Machrihanish Clubhouse who had a wonderful array of treats for the children. The children all agreed this was a great way to spend the first Monday back after the holidays!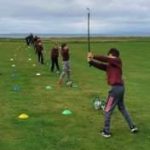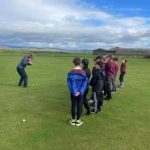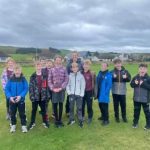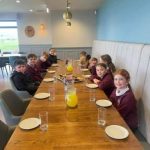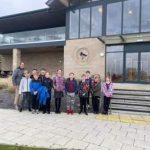 Great action was seen at the ELC Sports Day on Friday. They had an obstacle race, a beanbag race and a flat race as well as a very tricky egg and spoon race. All the children had a great time and are proud of their medals. 
Thank you to the P6 pupils who helped run the Sports Day, showing off their organisational and leadership skills.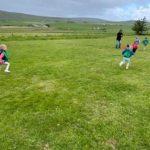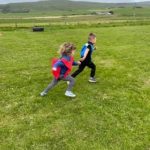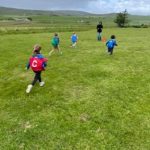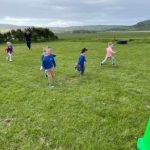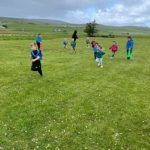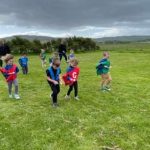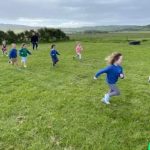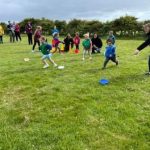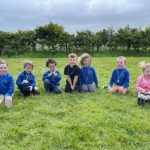 P4-7 had a wonderful day, learning about rhythm, musical notation, improvisation and beat with Jenny England.
They learned to interpret music through games and song and had turns at conducting for the rest of the class. The children will continue to develop their musical skills using the 'Get Creative' resources which were produced by Jenny.
Thank you to Jenny England for leading such an interesting and fun day for both pupils and teachers.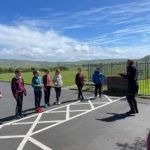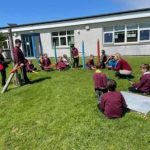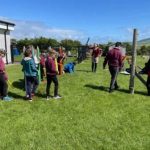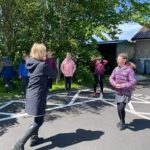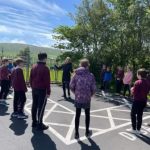 Health and Activity Award
The children have been busy at playtimes and lunchtimes with Jog Club (P1-3), Virtual Games Club (P4-7) and our new Boccia Knockout Competition (P1-7 pairs). These clubs are part of the Primary Schools Health and Activity Award which we are working towards. The aim of this award is to help schools to improve opportunities for physical activity. It encourages children to make decisions and plan for these activities and rewards those schools who are providing increased opportunities for activity and healthy living. Miss Brown has been organising and leading these clubs and is helping the children fulfil the requirements to attain the award.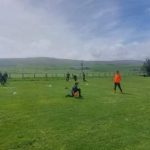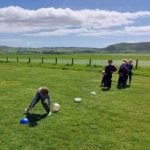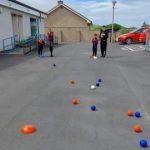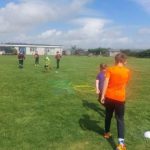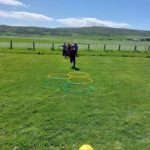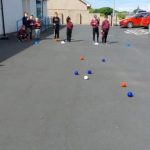 The children were delighted to finally get back to Aqualibrium for their swimming lessons! 
This is such a worthwhile activity, especially as we are surrounded by water in our local area. These lessons will help keep all the children safe as we head towards summer.
The children also went to visit the library and enjoyed some activities with the library staff.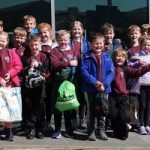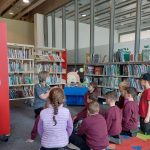 Active Schools - Tennis Coaching
Another session with Active Schools today – this time the children enjoyed developing skills in tennis.  They learned how to pass with forehand and backhand and played a game where they had to hit the beanbag into a hoop.  They will have further tennis lessons in the coming weeks.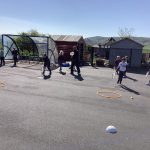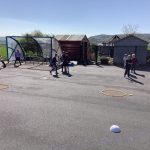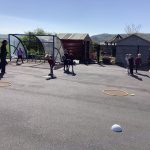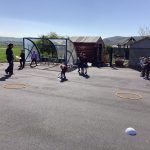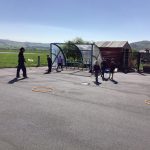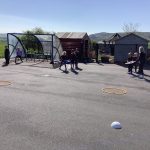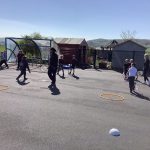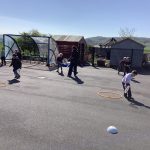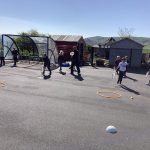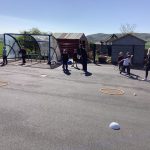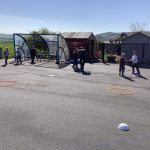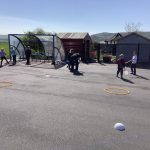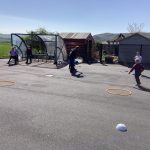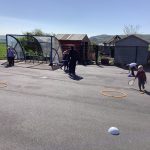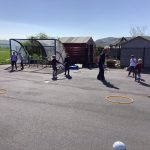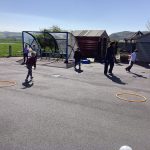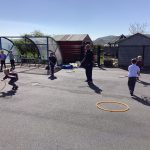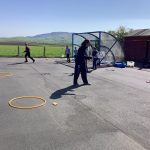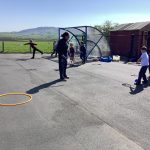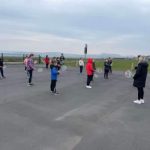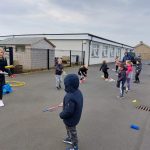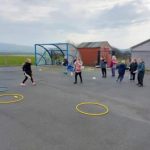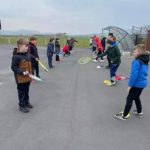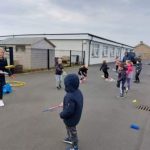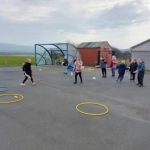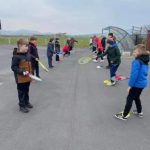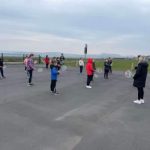 The P4-7 are continuing to develop their rugby skills, led by Andrew Johnston of Argyll and Bute Rugby Development. It has been fantastic to watch them play in teams and use their physical and communication skills to score tries. 
Thank you to Andrew for giving the children this great opportunity.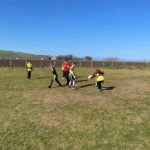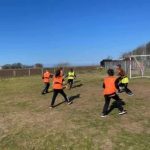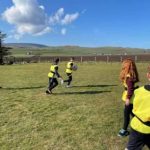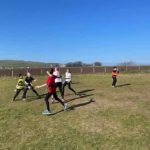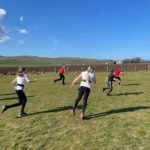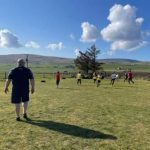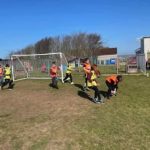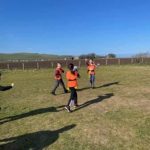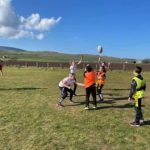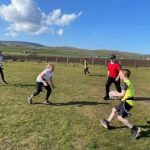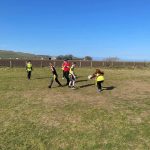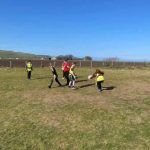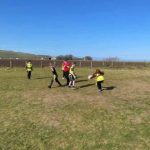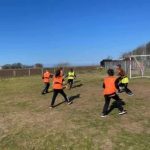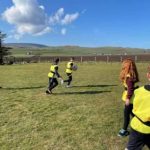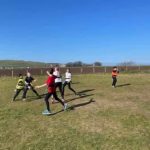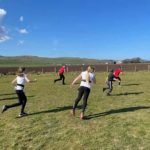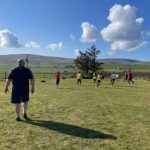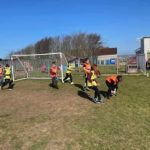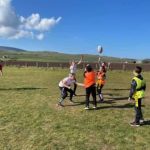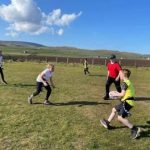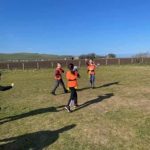 Sponsored Silence in aid of the Ukraine Humanitarian Appeal
We held our Sponsored Silence in aid of the Ukraine Humanitarian Appeal today. 
The children stayed silent as they coloured some beautiful sunflower pictures which will go in the pockets of donated clothes being sent to Ukrainian refugees. 
An amazing £904.67 has been collected! We would like to thank our children and their sponsors for contributing so generously.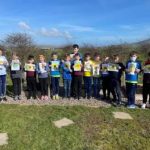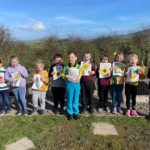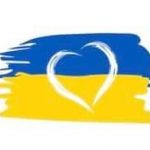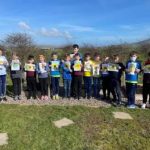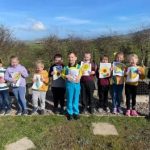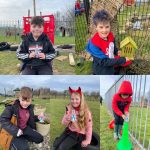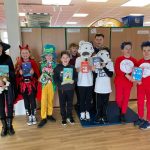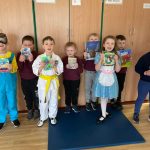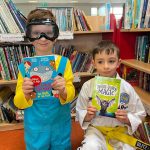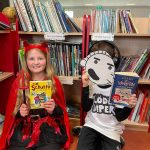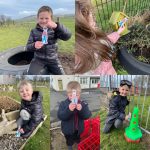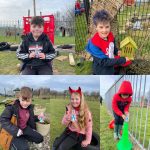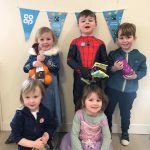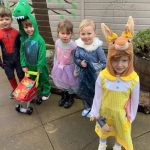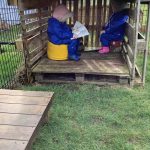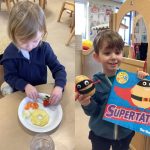 The children had lots of fun celebrating the 25th World Book Day. They dressed up as their favourite book characters and talked about stories they enjoy. There were book quizzes, a hunt for Wally, a BBC Live Lesson and some online stories. The children also began work on their own book, 'The Further Adventures of Gelda Globe' which they will share at a later date.  
The children in the ELC dressed up for World Book Day. Can you guess who their favourite characters are?
They read the story of 'Oliver's Fruit Salad' and made their own tasty salads. 
Potatoes were transformed into 'Supertato' and some quiet time was spent reading in the den outside.
The children have great fun playing and learning with our loose parts and nature area.   
Primary 1-3 were challenged to make a boat,large enough for everyone to fit on, when playing in our new outdoor construction zone. 
They worked together and made sure there was room for sitting and keeping look-out, some rods for a bit of deep sea fishing as well as a captain's seat. 
They were last seen sailing towards Davaar Island….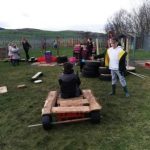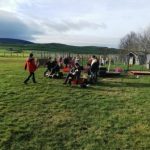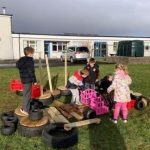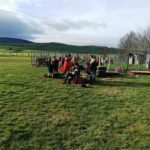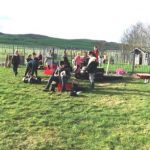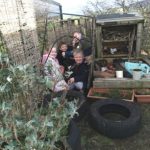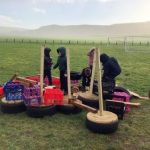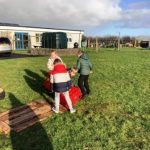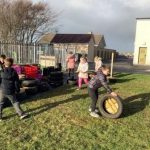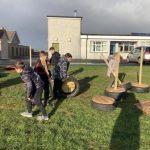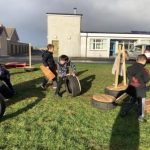 The children celebrated the life of Robert Burns with a special afternoon of activities. 
Some children had a traditional Burns Day lunch of haggis, neeps and tatties and wore items made of tartan. 
Then they joined forces to create a portrait of the famous poet before learning about his life from a short film. 
Everybody enjoyed singing 'Coulter's Candy' and listened to a story read in Scots. 
Great fun was had as the children sang and did actions for 'Heid, Shooders, Knaps an' Taes. The afternoon was rounded of with a rendition of Auld Lang Syne.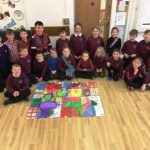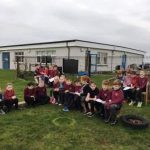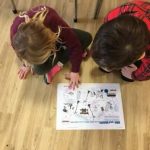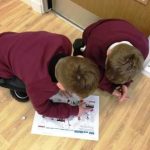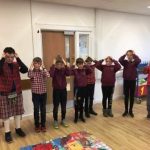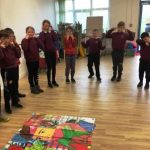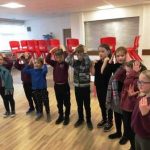 P1-3 had a lovely day for outdoor learning. They built an airport with a terminal building, a runway and a lookout tower. 
They took on the roles of air traffic controllers, airport staff and pilots. Wonder where they will jet off to! ✈️