Great action was seen at the ELC Sports Day on Friday. They had an obstacle race, a beanbag race and a flat race as well as a very tricky egg and spoon race. All the children had a great time and are proud of their medals. 
Thank you to the P6 pupils who helped run the Sports Day, showing off their organisational and leadership skills.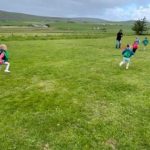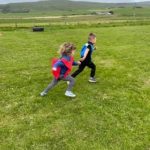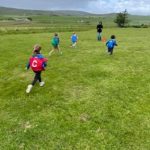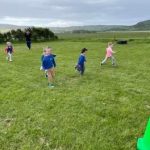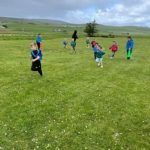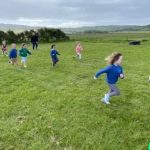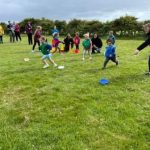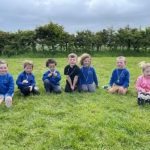 P4-7 had a wonderful day, learning about rhythm, musical notation, improvisation and beat with Jenny England.
They learned to interpret music through games and song and had turns at conducting for the rest of the class. The children will continue to develop their musical skills using the 'Get Creative' resources which were produced by Jenny.
Thank you to Jenny England for leading such an interesting and fun day for both pupils and teachers.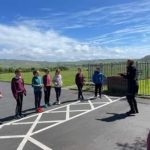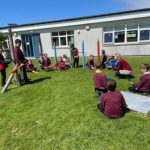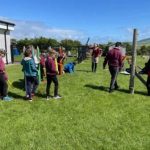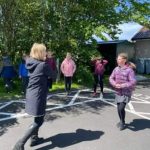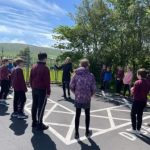 Health and Activity Award
The children have been busy at playtimes and lunchtimes with Jog Club (P1-3), Virtual Games Club (P4-7) and our new Boccia Knockout Competition (P1-7 pairs). These clubs are part of the Primary Schools Health and Activity Award which we are working towards. The aim of this award is to help schools to improve opportunities for physical activity. It encourages children to make decisions and plan for these activities and rewards those schools who are providing increased opportunities for activity and healthy living. Miss Brown has been organising and leading these clubs and is helping the children fulfil the requirements to attain the award.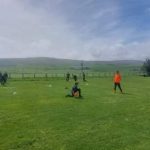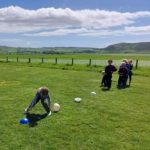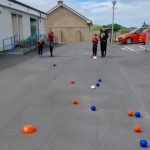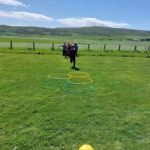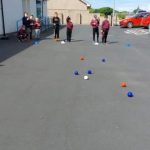 The children were delighted to finally get back to Aqualibrium for their swimming lessons! 
This is such a worthwhile activity, especially as we are surrounded by water in our local area. These lessons will help keep all the children safe as we head towards summer.
The children also went to visit the library and enjoyed some activities with the library staff.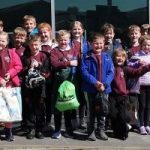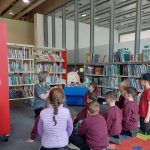 Active Schools - Tennis Coaching
Another session with Active Schools today – this time the children enjoyed developing skills in tennis.  They learned how to pass with forehand and backhand and played a game where they had to hit the beanbag into a hoop.  They will have further tennis lessons in the coming weeks.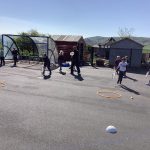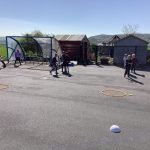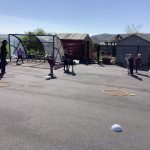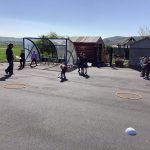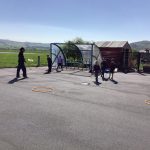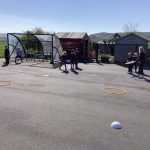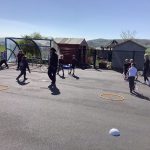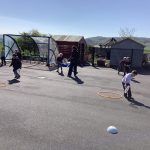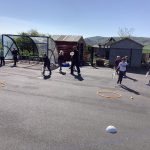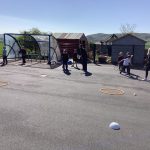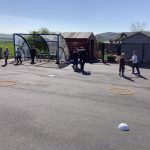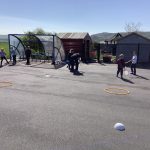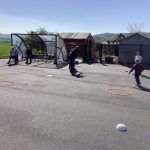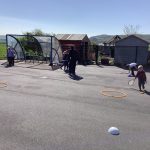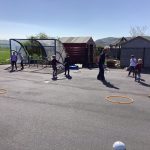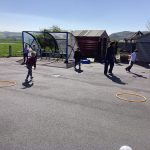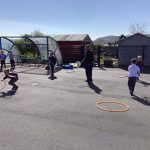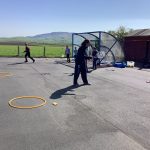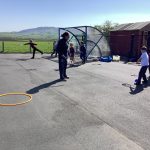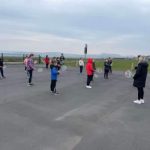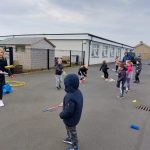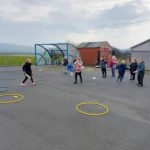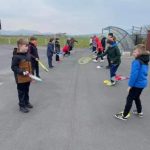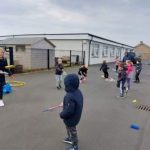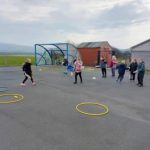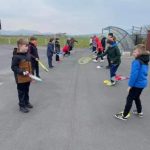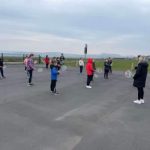 The P4-7 are continuing to develop their rugby skills, led by Andrew Johnston of Argyll and Bute Rugby Development. It has been fantastic to watch them play in teams and use their physical and communication skills to score tries. 
Thank you to Andrew for giving the children this great opportunity.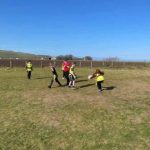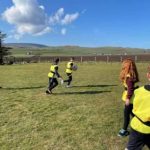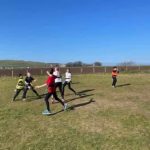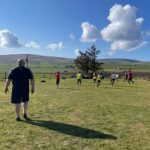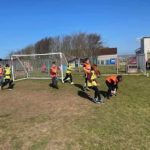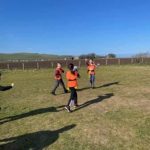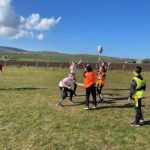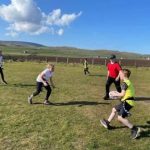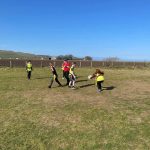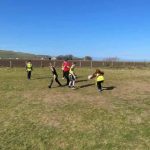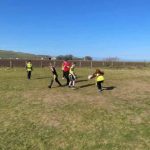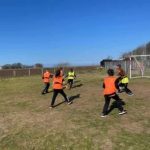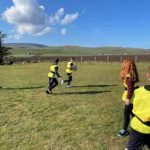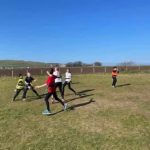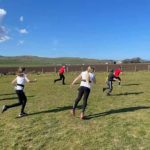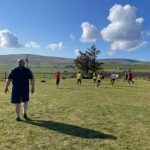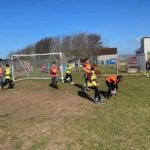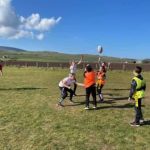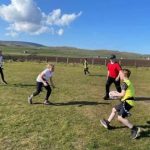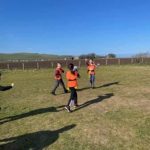 Sponsored Silence in aid of the Ukraine Humanitarian Appeal
We held our Sponsored Silence in aid of the Ukraine Humanitarian Appeal today. 
The children stayed silent as they coloured some beautiful sunflower pictures which will go in the pockets of donated clothes being sent to Ukrainian refugees. 
An amazing £904.67 has been collected! We would like to thank our children and their sponsors for contributing so generously.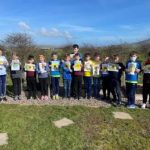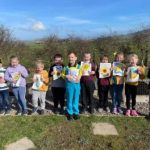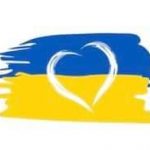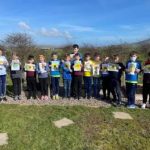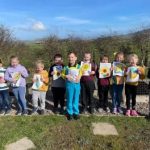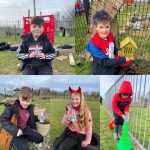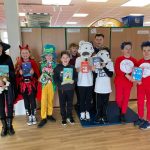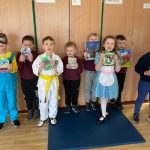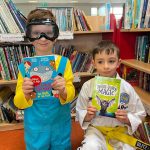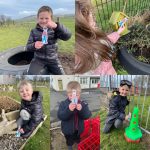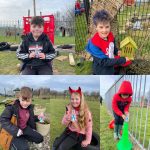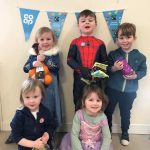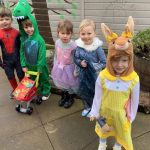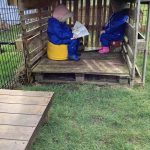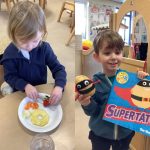 The children had lots of fun celebrating the 25th World Book Day. They dressed up as their favourite book characters and talked about stories they enjoy. There were book quizzes, a hunt for Wally, a BBC Live Lesson and some online stories. The children also began work on their own book, 'The Further Adventures of Gelda Globe' which they will share at a later date.  
The children in the ELC dressed up for World Book Day. Can you guess who their favourite characters are?
They read the story of 'Oliver's Fruit Salad' and made their own tasty salads. 
Potatoes were transformed into 'Supertato' and some quiet time was spent reading in the den outside.
The children have great fun playing and learning with our loose parts and nature area.   
Primary 1-3 were challenged to make a boat,large enough for everyone to fit on, when playing in our new outdoor construction zone. 
They worked together and made sure there was room for sitting and keeping look-out, some rods for a bit of deep sea fishing as well as a captain's seat. 
They were last seen sailing towards Davaar Island….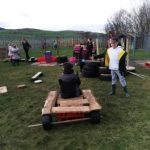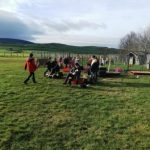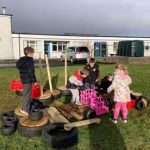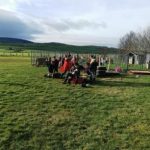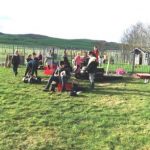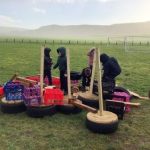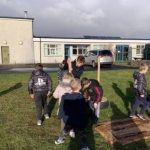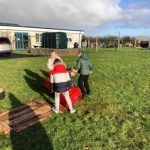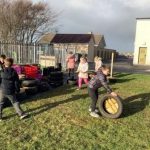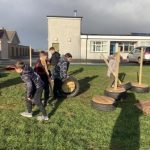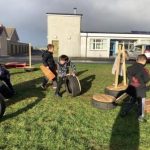 The children celebrated the life of Robert Burns with a special afternoon of activities. 
Some children had a traditional Burns Day lunch of haggis, neeps and tatties and wore items made of tartan. 
Then they joined forces to create a portrait of the famous poet before learning about his life from a short film. 
Everybody enjoyed singing 'Coulter's Candy' and listened to a story read in Scots. 
Great fun was had as the children sang and did actions for 'Heid, Shooders, Knaps an' Taes. The afternoon was rounded of with a rendition of Auld Lang Syne.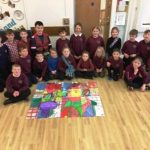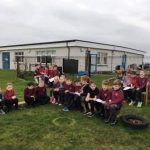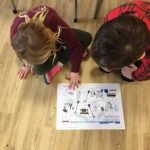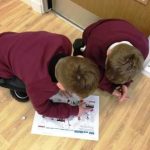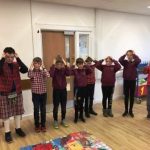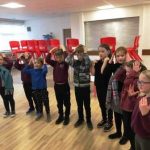 P1-3 had a lovely day for outdoor learning. They built an airport with a terminal building, a runway and a lookout tower. 
They took on the roles of air traffic controllers, airport staff and pilots. Wonder where they will jet off to! ✈️