We have decided to hold a sponsored silence on the afternoon of Friday, 18th March. The silence will allow us to reflect on the plight of the children in Ukraine where, sadly, their voices cannot be heard as they are caught up in a situation beyond their control.
During the silence, the children will be able to colour in some sunflower pictures. Sunflowers are the national flower of Ukraine and we plan to put the completed pictures into the pockets of donated clothes items, in the hope they will send a message of love and support.
The children may come to school wearing items in yellow and blue to represent the colours of Ukraine's national flag.
Each family will be provided with a sponsorship form and may collect sponsors before next Friday. We ask that the children gather a maximum of 5 sponsors from family members or friends. Participation in sponsorship is, of course, voluntary.
Campbeltown Grammar School are running a fundraiser to grow sunflowers and are  inviting our children to participate in this too. Children may pay £2 for their sunflower seed, compost and pot.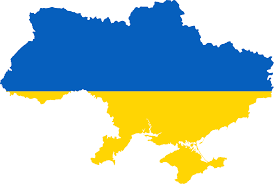 All money collected will be donated to the Disasters Emergency Committee (DEC): Ukraine Humanitarian Appeal.